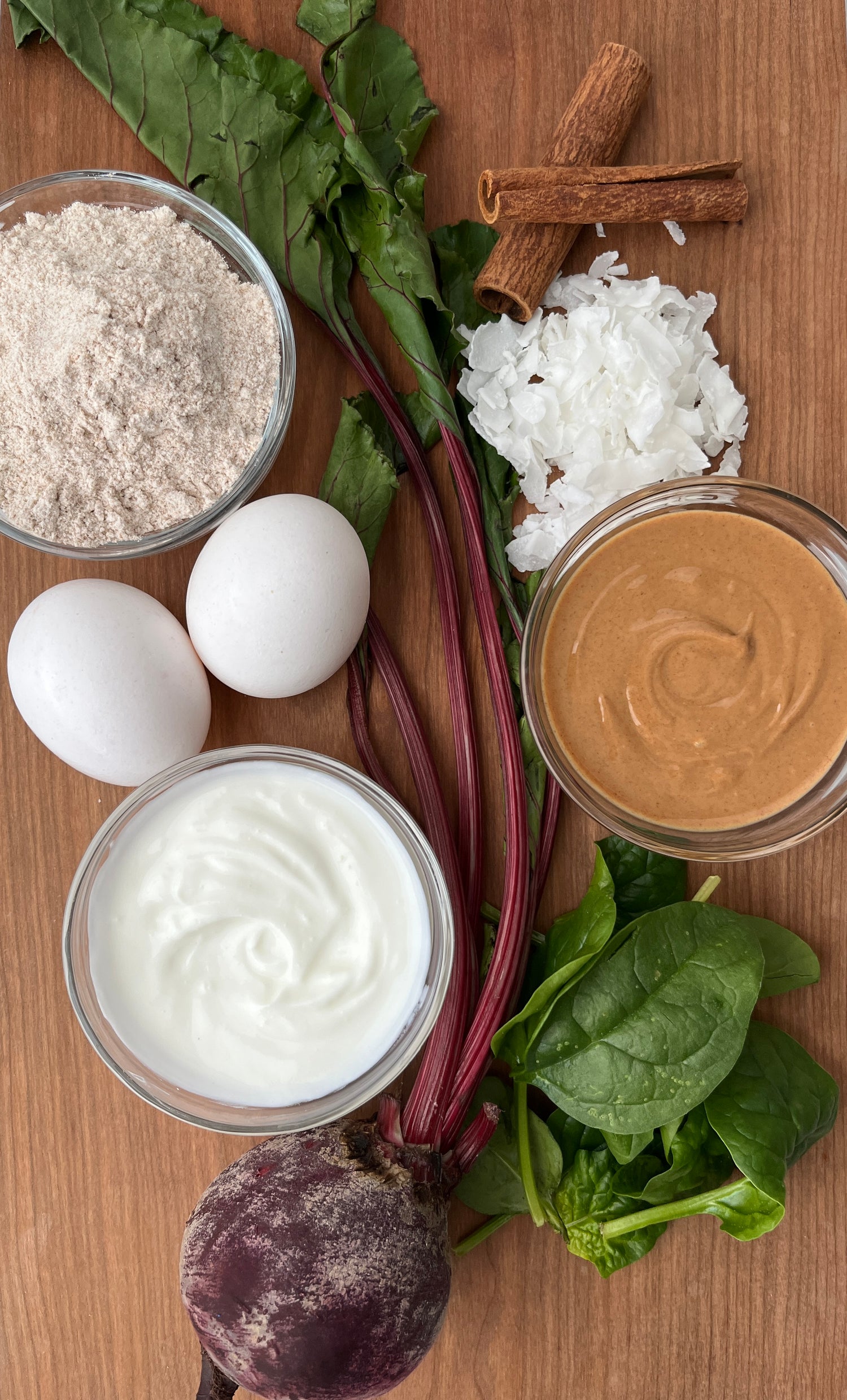 Our Ingredients
We use 100% real ingredients for all of our treats.
Even our dyes are derived from dog-friendly plant sources like beets, spinach, and tumeric!
No added sugar or salt goes into our treats.
All of our treats are handmade and baked in small batches to maintain high quality.
Go ahead, treat your pup!
FAQs
Are you certified to sell dog treats?

Yes! We follow New York State's guidelines, which mandates that all dog treat manufacturers must go through a specific process to certify their treats for sale at farmer's markets, in shops, and online. All of our treats are registered and approved for sale in New York State. We are also certified to sell our Baked Biscuits in Pennsylvania.
What makes your dog cakes unique?

Our dog cakes are made using 100% dog-friendly, real ingredients, including our dyes!
Through developing and improving upon each batch of our baked treats, we have created a line of celebration treats using natural foods that your dog will love. For instance, we make pink icing from beets and sprinkles from coconut. With Belle's Barkery treats, we make sure that you get both style and substance!
Can the icing be a vibrant color? What do you use for dye?

Our standard is to use 100% real ingredients in our products. Our dyes come from plant-based ingredients, such as beets, tumeric, and blueberries, creating a more natural color tone.  We think the treats look spectacular and feel great about our dyes that are derived from dog-friendly plant-based sources! 

Please check out our gallery to see examples of the colors we can achieve. If you have further questions, please reach out to us.
What if my dog has allergies?

Please inform us of any allergies that your dog may have. Most treats are made using eggs, peanuts, wheat, and dairy products. If you have any questions, please give us a call!
How long do the treats last?

All our treats are made with no preservatives and 100% real ingredients, which means… they will expire! Please see below for our guidance:

- Cakes & Cupcakes: Keep refrigerated for up to 5 days. If frosting is left uncovered, it may harden and darken in color; however, the cake is still okay to eat. The cake can also be frozen, but please note, the frosting may crack and change in texture.

- Baked Biscuits: Our guidance is to keep the treats at room temperature for two weeks or up to one month in the fridge. They can also be frozen and enjoyed at a later date (but good luck keeping them for that long 😉).
Why did you start a dog bakery?

After many years in business, I left my job and attended culinary school for baking & pastry. This was a life dream of mine, alongside being a dog mom. When Belle's first birthday was coming up, I knew I had to bake her a cake from scratch. After making Belle's first cake, I started perfecting the recipe as I wanted to offer more dogs a "better for you" option to the high sugar and artificial dye dog treats that I found in stores. The best part of my job is seeing the faces of dogs light up when they chow down on a special treat of their own. It's not every day that you see a dog eat their own cake! Please let us know how we are doing and thank you for your support!
What type of dog is Belle?

Belle is part Border Collie and part Australian Shepherd. She is incredibly smart and very energetic. Belle loves meeting people, practicing agility, and flopping on her back to get her belly scratched!
Can we make bulk orders?

Yes! For bulk orders or event catering, please send us an email or give us a call. 
Do you ship your products?

Yes; however, our ability to ship is currently dependent on the item! Please see below for our latest information by item.

Non-treats/Celebration Store Items: Ships nationwide

Baked Biscuits: Ships to New York State and Pennsylvania

Cakes/Cupcakes: Local pick-up; choose Dogtopia of Fishkill or Pampered Pooch Grooming & Boutique in Pleasant Valley during check-out.